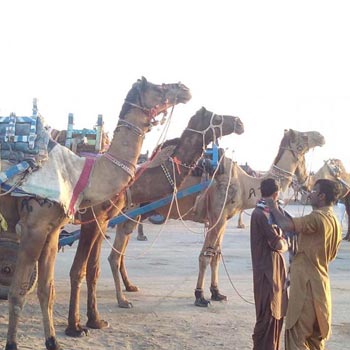 A Rajasthan trip is incomplete without exploring its vibrancy which is stored in the exclusive and queer lifestyle of the tribal population residing there. There are lots of untouched and unexplored rural and tribal destinations for you in Rajasthan. The tribal group in Rajasthan holds an inheritance of traditions, which are intensely rooted in their culture and lifestyle.
The well-organized Rajasthan tribal tours will take the travelers away from the chaos of the city and town to the serene and peaceful place where people still believe in living a simple and uncomplicated life just like their ancestors did. Rajasthan tribal tour is planned to let the visitor explore the most unexplored parts of Rajasthan's traditional spirit. During the tour, one can explore the parts of Rajasthan that have still managed to preserve its old charms and ancient practices.
On this tribal tour, travelers can get an amazing opportunity to interact with some of the colorful tribes like the Bhils, Bishnoi's, Nauls and many more, bringing them very close to a fascinating culture that is loaded with tales of pride, honor, and love. So tourists prefer to book Rajasthan tribal tours packages in which they get the chance to meet with Rajasthan's tribal people and observe them properly. Let's have a look into the itineraries that are included in the Rajasthan tribal tour-
• Arrival At Delhi: Upon arrival at Delhi airport you will meet with the representative of the tour operator or the travel company, you have booked the trip with. The representative will assist you all across your trip to Rajasthan.
• Delhi – Nawalgarh: From Delhi, you can drive to Nawalgarh in the Shekhawati region. Here you can explore surrounding towns and villages of Minas tribes along with their painted Havelis and temples. Later you will return to your hotel for the night stay.
• Nawalgarh – Sikar – Kuchaman: From Nawalgargh, you will drive to Sikar to visit the tribal village of minas and continue the drive to Kuchaman. Here you can enjoy folk dance performing by the local artists in the evening. Later you will return to your hotel for the night stay.
• Kucheman – Pachewar: From Kucheman you will drive to Pachewar village and its restored fort. Here you can see the agricultural practices by the locals, and visit the toymakers and a blue pottery kiln.
• Pachewar – Bundi: From Pachewar, you will drive to Bundi for sightseeing of Raniji ki Baori stepwell and fort. Then you will continue the drive to visit the Rajmahal, a 300-year-old palace.
• Bundi – Kota: From Bundi, you will drive to Kota in the morning. Here you can explore the fort and palace. In the afternoon you can explore the village life of the Sahariyas tribe.
• Kota – Shahbad – Kota: From Kota, you will move out for an excursion in the morning to Shahbad. Here you will explore the culture of the Sahariya tribe. You can spend the day interacting with some tribal people here. Later you can drive back to Kota for a night stay.
• Kota – Chittorgarh: From Kota, you will drive to Chittorgarh Fort and Bijaipur, and interact with the Mina tribes.
• Chittorgarh – Dungarpur: From Chittorgarh, you will drive to Dungarpur. On the way, you can visit Jai Samand Palace. In Dungarpur, you can interact with Bhil tribes, Sahariyas tribes, and Damors tribes.
• Banswara excursion: In the next morning you will drive out for Banswara excursion to explore the Bhil tribal culture in the best-preserved form.
• Dungarpur – Udaipur: From Dungarpur, you will drive to Udaipur to visit its Bhil villages all around.
• Udaipur – Ranakpur: From Udaipur, you will drive to Ranakpur to visit some village of Gaduliya Lohras and Garacias tribe.
• Ranakpur – Sirohi – Daspan: From Ranakpur, you will drive to Sirohi and Leopard's Lair at Bera. Here you can interact with Rabaris. Then you will continue your drive to Daspan village where the fertile fields grow abundant crops. This village is also famous for its embroidered shoes. You can also interact with some families that make bows and arrows in the Bhil style.
• Daspan – Rohet: From Daspan you will drive to Rohet. Here you can go for a jeep safari to the nearby Rabari and Bishnoi villages.
• Rohet – Jodhpur: From Rohet you will drive to Jodhpur to visit some amazing places.
This tribal trip will take around 23 to 24 days. From Jodhpur, the tourists will leave for Delhi or Mumbai airport to board the flight for their home country.
So, get amazed by the treasure trove of the unexplored and untouched temples, forts, palaces monuments, traditions and culture of Rajasthan by booking a Rajasthan tribal tour with a reputed tour operator or travel company.